Women in Conservation
Audubon's Conservation Leaders Program for Young Women
A year of career-focused conservation learning and service for high school girls.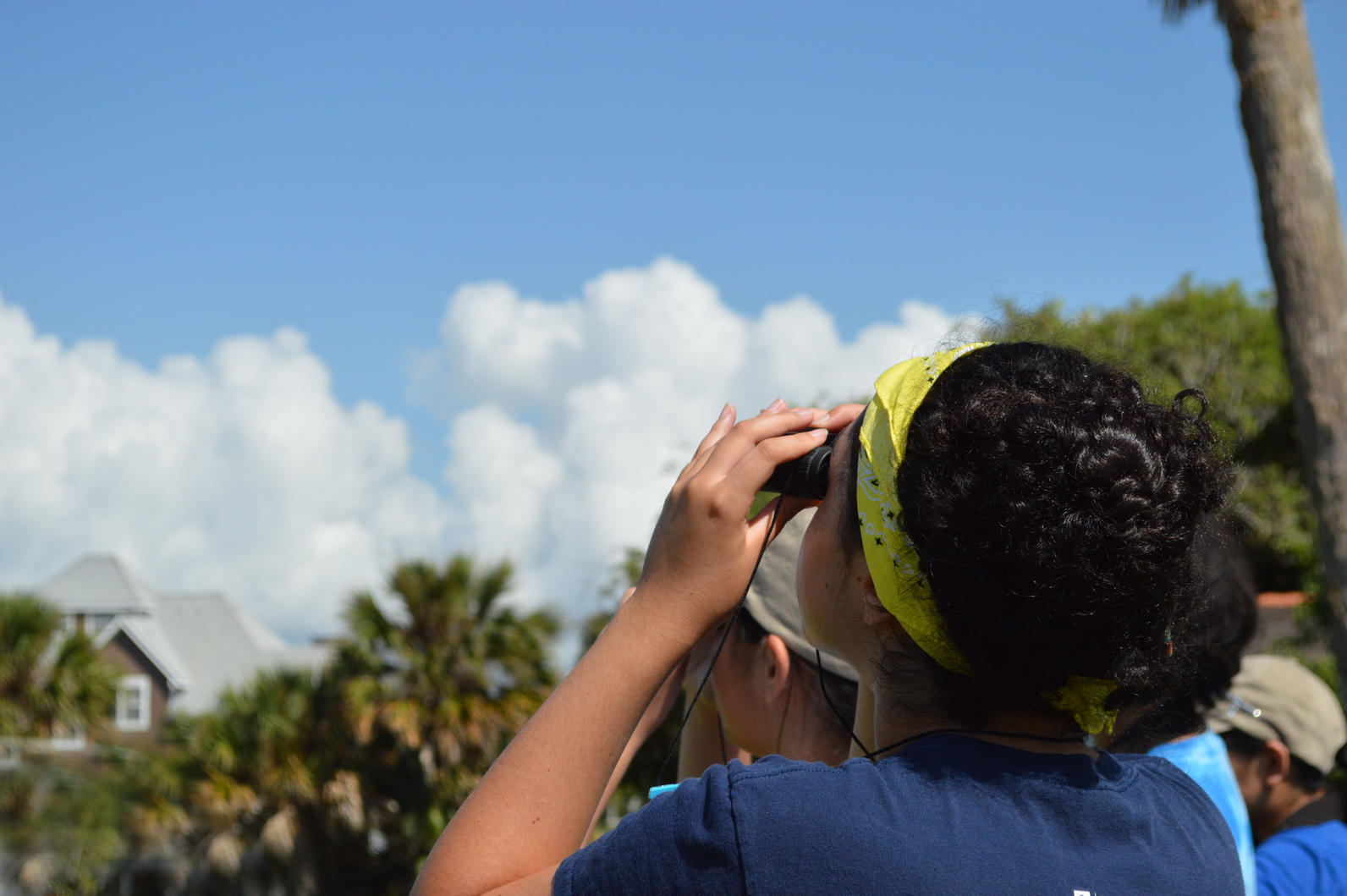 A part of the Texas Women in Conservation Program, Audubon's Conservation Leaders Program for Young Women stewards high school girls through a year of free hands-on learning, field experiences, and mentorship, to help foster careers in conservation and environmental sciences. Each young woman selected is placed with their local Texas Audubon Center – either Dogwood Canyon Audubon Center in Cedar Hill, Trinity River Audubon Center in Dallas, or Mitchell Lake Audubon Center in San Antonio – from which they embark on outdoor learning experiences like tree planting, invasive plant removal, bird watching, seed-ball making, litter clean-up, and hiking. In addition to center-based learning, the girls have the chance to participate in a variety of off-site experiences with our partners, including:
• A visit to John Bunker Sands Wetland Center to learn about water conservation and management.
• A rafting trip down the Trinity River to learn where Texas's drinking water comes from first-hand.
• A Q&A with Marty Leonard, an influential Texas conservationist and 2016 Terry Hershey Award recipient.
• Attendance Audubon's 2016 Texas Women in Conservation Luncheon & Terry Hershey Awards in Fort Worth.
• A behind-the-scenes tour of the Fort Worth Nature Center and Q&A with staff.
• A field trip to Cedar Hill State Park for a Q&A with Assistant Park Superintendent, Beth Tragus, and a fishing expedition led by Master Naturalist, Eileen Berger.
• A field trip to Sea World San Antonio for an in-depth look at their conservation and animal rehab work, including their new aviary.
• Attendance at a Local Women in Conservation Career Panel and Q&A, where girls heard the stories and experiences of women from professional conservation organizations across San Antonio and in a variety of career areas.
The year culminates with a week-long, outdoor-immersion trip to the Texas Coast, which ties together the skills the students have learned, fosters lasting bonds, and solidifies a foundation for lifelong environmental stewardship. Students participated in a bird ID workshop and bird population survey led by Audubon Texas's coastal scientists and volunteer projects to assist nesting birds in Important Bird Areas, visited Aransas National Wildlife Refuge for scenic wildlife tour, visited the University of Texas Marine Science Education Center in Port Aransas, and took a a four-hour educational boat trip led by University of Texas Marine Science Institute staff. The young women assisted with crab tagging, benthic trawls, plankton tows, mud grabs and fish identification.
Quotes & Photos from Audubon's Conservation Leaders Program for Young Women

2015-2016

Audubon's Conservation Leaders Program for Young Women is a part of a greater effort to raise the stature of women's roles in conservation, support girls and younger women in environmental sciences, and engage women in important conservation issues in Texas. And it can't be done without your support.
How you can help, right now